Executed cases of
Environmentally symbiotic housing in JAPAN
SETAGAYAKU FUKASAWA SYMBIOTIC HOUSING
Tokyo's Setagaya Ward has replaced detached wooden housing, built in 1952 and owned by the Tokyo Metropolitan Government, with an environmentally symbiotic housing complex as a model case study.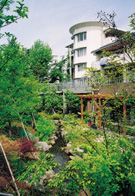 Developed with participation from former residents and designed to create a socially integrated community, this complex is comprised of ward-owned apartments and a day care center for the elderly. Comprehensive efforts were undertaken to apply diverse environmentally symbiotic solutions by analyzing the characteristics of the location and local residents' lifestyles. These solutions included the preservation and reuse of existing vegetation and soil on-site, minimizing excavation, consideration of the layout, form and plans of the buildings, and the use of natural elements such as solar and wind energy and rain water.
(Photo by IWAMURA ATELIER)
SAIN VARIE SAKURAZUTSUMI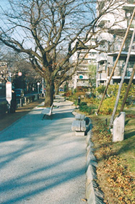 This housing development was built as a replacement for Sakurazutsumi Settlement, which was originally built in 1959. For this project, major efforts were focused on the creation of a residential townscape that can support social activities. These efforts included the preservation of the original settlement's cherry and zelkova trees, as well as the networking of pedestrian walkways to connect parks, promenades and public facilities located among the surrounding greenbelts and rivers. In addition, compost from the development's kitchen waste is collected by the city of Musashino and distributed to local farmers for use as organic fertilizer.
(Photo by EARTH WORK)
TOKYO METROPOLITAN GOVERNMENT'S APARTMENT NO.3 IN HASUNE 3-CHOME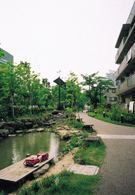 This is a experimental project for advancing the development of environmentally conscious housing,entitled "Eco-pear".The attached pedestrian greenbelt, which was constructed at the same time, was designed to recover the original landscape of the site, which was a marshland adjacent to the Singashigawa River. This greenbelt is now actively used as a biotope for children to play and learn about an environmentally conscious society. In addition, plans call for roof top greenery and the courtyard to be linked with the walkway to provide a network of local greenbelts throughout the site.
(Photo by EARTH WORK)
YAKUSHIMA SYMBIOTIC HOUSING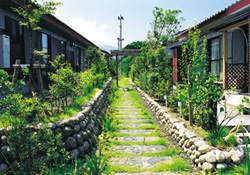 Yakushima, a southern island of Kagoshima Prefecture, is well known for its most unique natural environment registered as a World's Natural Heritage site.
Here, public housing was planned and developed after intense investigations and analysis of the island's unique features, including its climate, geography and the traditional settlements.
The layout of the single story wooden row houses is integrated into the terraced hills along the coast.
The townscape, characterized by stone walls, hedges and thatched roofs, was conceived to cope with the extreme precipitation and violent storms common to the island. Together with the natural materials and the local vegetation, the townscape will also create a stable and beautiful landscape as the site matures. A variety of common spaces, such as passages, pedestrian malls, squares and small greenbelts, have been planned to create a network of public access spaces within and around the settlement, and this is expected to contribute to the lifestyle values of the environment and community overall.
(Photo by IWAMURA ATELIER)
ZELKOVA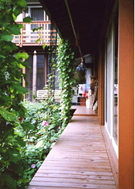 A detached house designed to accommodate two households consisting of three generations, with the patriarch of the family confined to a wheelchair. Efforts were made to analyze and understand the relationship between the house and its local environment, as well as the residents' lifestyles. This "pre-design" process led to the choice of a variety of environmentally symbiotic decisions, such as avoiding the destruction of established trees and other natural landscape features to help preserve the residents' historical memories. Other environmentally conscious amenities adapted to the design include rooftop and wall greenery, solar cell panels and natural ventilation through monitor roofs.
(Photo by IWAMURA ATELIER)
HOUSING IN MIYAZAKIDAI SAKURAZAKA

This hilly residential area has impressive streets lined with preserved cherry blossom and fruit tree groves, along which residents enjoy taking walks. The main theme of this housing development was to create an attractive environment that adds value to the residents' lifestyles, including maintaining harmony with the natural topography. A fixed time lease-hold system of land was also introduced to create a small and neat community.
(Draw by MISAWA HOMES)


reference book:the symbiotic housing(ibec.march 2001)
Go Up